The "increase in ominous and threatening behavior in recent weeks" has resulted in the suspension of all physical Brexit controls in Belfast and Larne ports.
This came after the council staff at Larne Harbor withdrew from conducting fully regulatory animal-based food controls amid concerns over their safety and well-being.
A spokesperson for the Northern Ireland Department of Agriculture, Environment and Rural Affairs (Daera) said the decision was made following talks with the PSNI (Northern Ireland Police Service).
"The situation will be kept under review, and in the meantime, full document checks will continue as usual." They said.
Twelve Central and East Antrim County Council personnel who assisted Daera and UK Border Force officials with controls at the port, withdrew from their duties with immediate effect Monday.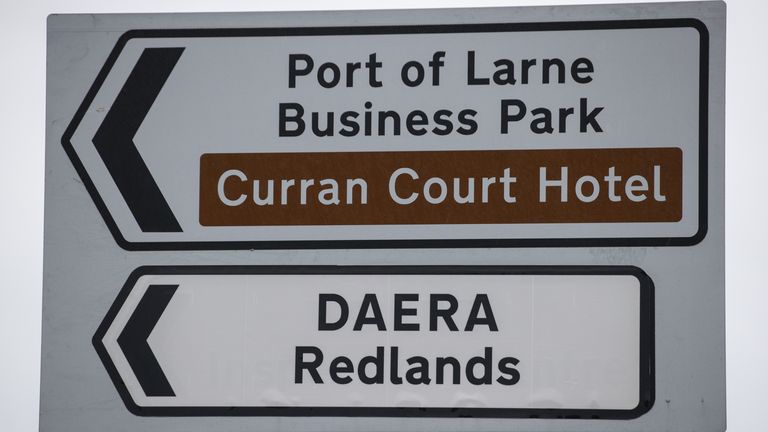 The decision came last month with the advent of graffiti in the region, referring to the Northern Ireland Protocol, post-Brexit regulation for the Irish border, and tensions labeling port personnel "targets".
Also, amid the outrage over the protocol in Belfast, a series of incidents took place at the beginning of the year, with the introduction of a series of new controls over goods arriving from Great Britain into ports.
The council said the situation caused "excessive distress and anxiety for staff" and "had no choice but to withdraw them from their duties to fulfill their duty of care."
He apologized for any inconvenience, but said "the safety and well-being of the staff is extremely important."
In addition to concerns about graffiti, staff appear to have expressed concern that people were seen taking plate details.
Sinn Fein councilor James McKeown said, "Our staff will walk away and only return when we are completely satisfied that it is safe and correct for them.
"There are currently simmering tensions in the local community and we will not allow our staff to be targeted just while doing their job."
PSNI Deputy Police Chief Mark McEwan said force officials will meet later with partner agencies to discuss the situation.
"The safety of staff working at entry points is extremely important to us. When we have any reliable information we will share it with our partners and take appropriate action.
"We have increased patrols at Larne port and other points of entry to give confidence to staff and the local community."
Last month, police warned that discontent over the Northern Ireland Protocol, which was designed to avoid a hard border on the Irish island, "is growing" after Britain's exit from the EU.
It was designed to allow Northern Ireland to comply with the EU's customs rules and caused delays in ports due to new declarations and checks on goods from Great Britain.
DUP behaved loudly against the operation of the protocol.
Ian Paisley, the party's MP for North Antrim, denounced the threats against personnel, but pointed out that the protocol "will cause these problems".
"Such tactics have no place in democracy," he said.